Fed up with excessive perspiration?  Tired of not being able to wear what you want?  Afraid to lift your arms in public?
Ever been embarrassed about excessive sweating, causing stains in the underarm area, or not being able to wear the clothes you want? Or does sweating affect your confidence at work and in relationships?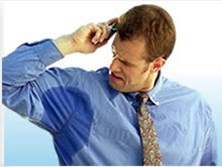 Sweating is a physiological (normal) function regulated by your nervous system. Most of us sweat normally to maintain our body temperature in warm/hot conditions, but sometimes it can become disordered and troublesome even in the absence of these factors.
Approximately 3% of the population suffer from this problem.
You are not alone!
The aesthetic laser centre can offer relief for those sufferers of excessive sweating, or hyperhidrosis.
This problem occurs when the nerves that control the sweat glands are over-stimulated and sweat is produced at a far greater rate than is necessary to keep the body at a constant temperature.
This can happen as a result of a medical condition or drugs, or more commonly when a person becomes emotionally stressed.
With our society becoming increasingly stressful and insecure, a greater number of people are suffering from the embarrassing and awkward condition of Hyperhidrosis.
Find out now how thousands of Australians have ended their embarrassment and are now sweat free and relaxed after this miraculous 10-minute treatment.
Call now for your free, obligation free consultation.
(03) 6223 8888
*TREATMENT DISCLAIMER
Please be aware that individual results for any treatment or use of our products may vary. Results are not guaranteed.
*GENERAL DISCLAIMER
Please also be aware that the information, including but not limited to, text, graphics, images and other material contained on this website are for informational purposes only. The purpose of this website is to promote broad consumer understanding and knowledge of various health topics. It is not intended to be a substitute for professional medical advice, diagnosis or treatment. Always seek the advice of your physician or other qualified healthcare providers with any questions you may have regarding a medical condition or treatment and before undertaking a new health care regimen, and never disregard professional medical advice or delay in seeking it because of something you have read on this website.