Please note that we are not allowed to use the product brand name on our website by Australian law.
Double chin injections are now available in Australia, It is a revolutionary product, offering a permanent solution for removal of double chin fat.
Having read our guide you will be able to book a treatment for double chin treatment with our medical expert and permanently remove that stubborn double chin fat.
No more hiding the neck with scarves, no more tilting your head up when having your photo taken.
Permanent double chin fat removal/treatment – how does it work?
The double chin injections contain a product which contains deoxycholic acid, found naturally in the body, and helps absorb fat in food. The product is injected into the fat in the double chin area and permanently destroys the fat cells by a process known as adipocytolysis. Once the fat cells have been destroyed they cannot store fat again. Imagine your fat cells are balloons and double chin injections are darts. Injecting the product under the chin is like throwing a dart at fat cells. Once they have been popped they cannot be blown up again.
Benefits of Permanent double chin treatment
A permanent double chin treatment can transform your looks and give you an incredible boost of confidence.
Eliminating fat under the chin
Getting rid of your double chin with no incisions
No stitches necessary
No scars
No downtime

What does Permanent double chin treatment involve?
Permanent double chin treatment is typically given in 30- to 45-minute in-clinic treatment session. A doctor will administer a series of injections into the area under your chin at each session.
What can I expect during treatment?
As with other injectable treatments, you may experience side effects. Most patients experience mild or moderate pain or discomfort at the first time. Prior to injection, you could request topical or injectable local anaesthesia to the treatment area to make you more comfortable.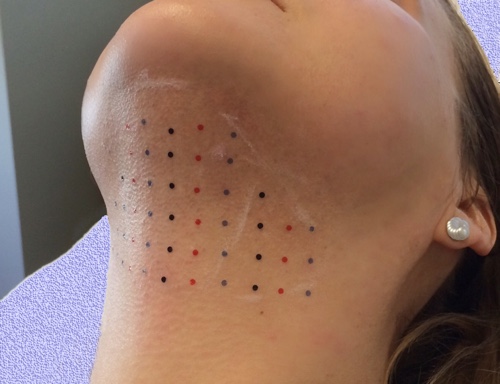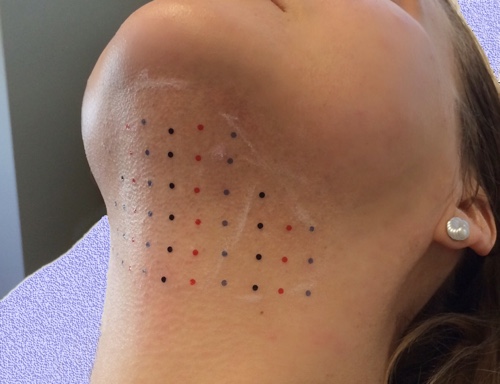 Am I an ideal candidate for this treatment?
This double chine removal treatment is a non-surgical solution for men and women. It can target stubborn fat that won't budge with traditional weight loss methods. In fact, a treatment can work with even moderate to severe submental fat (under the chin fat).
If you are at a healthy weight but are still dealing with annoying fat under your chin, you could be a perfect candidate for this treatment.
How many treatments will I need?
Many people treated with double chine removal injection experience visible improvement of their chin profile in 2-4 treatments.
Up to 6 treatments may be administered, spaced at least 4 weeks apart.
Once your desired results are achieved, re-treatment is not expected as results are maintained for at least 4 years.
*TREATMENT DISCLAIMER
Please be aware that individual results for any treatment or use of our products may vary. Results are not guaranteed.
*GENERAL DISCLAIMER
Please also be aware that the information, including but not limited to, text, graphics, images and other material contained on this website are for informational purposes only. The purpose of this website is to promote broad consumer understanding and knowledge of various health topics. It is not intended to be a substitute for professional medical advice, diagnosis or treatment. Always seek the advice of your physician or other qualified healthcare providers with any questions you may have regarding a medical condition or treatment and before undertaking a new health care regimen, and never disregard professional medical advice or delay in seeking it because of something you have read on this website.