Treatment Detail
The Aesthetic Laser Centre 
anti-wrinkle experts in Hobart Tasmania
At Aesthetic Laser Centre, we are passionate about giving you the best possible results from your treatment. We are open and honest about the cost of treatment, how many units you may need and how the treatment is likely to look. We love providing as much information for you as possible so you are fully informed about anti-wrinkle treatments before your consultation. If you have any questions about treatment then please contact us and we will get back to you with an answer.
By law, we are not allowed to use the real names of the products so we have to call them 'anti-wrinkle injections' rather than use the brand names. Frustrating, but we have to abide by Australian law!
Anti-wrinkle injections – how do they work?
When anti-wrinkle injections are performed we place a small amount of anti-wrinkle product into the muscle. This product prevents the nerve from telling the muscle to contract (see diagram below).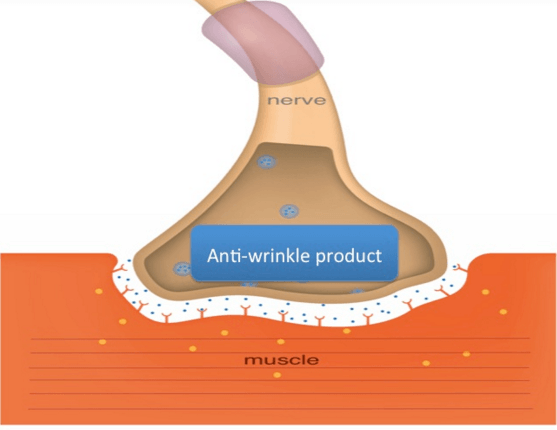 Wrinkle Reductions
Anti-wrinkle injections reduce fine lines and wrinkles by relaxing the underlying muscles. The product we use is a natural, purified protein that relaxes wrinkle-causing muscles creating a refreshed look.
Which Facial Lines Are Suitable For Muscle Relaxant Injections?
Anti-Wrinkle Injections will either improve or totally remove those facial wrinkles caused by repetitive muscle contraction. The most frequently treated ones are:
'Frown lines' – the vertical lines and/or furrows between the eyebrows
'Surprise lines' – the horizontal forehead lines
'Crow's feet' at the sides of the eyes

Lines under the eyes

'Bunny Crunches' on the upper nose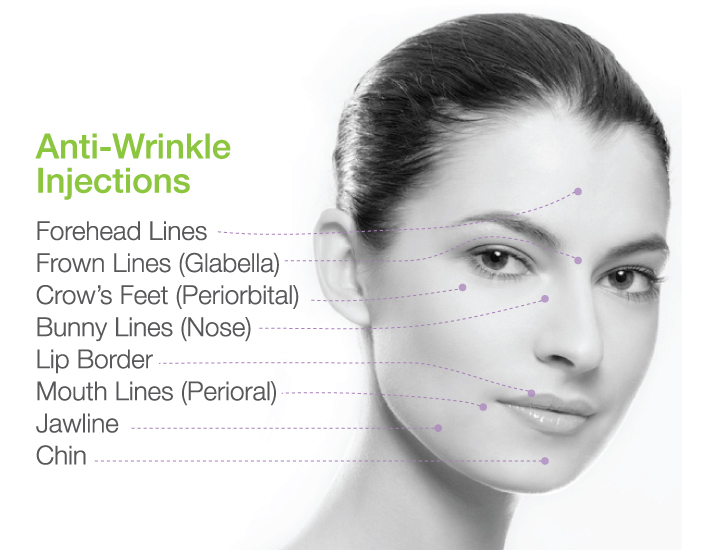 By relaxing the underlying muscles responsible for these lines, the lines will either improve or completely disappear depending on how deep they are before treatment. However, even if they only improve and don't completely disappear, you still have the benefit of preventing the lines becoming deeper from future contractions of the underlying muscles.
Reassuringly, the muscle relaxant only prevents the contraction of the muscles into which it is injected. It does NOT produce any numbness of the skin in the injected area or any internal side effects.
Other uses of muscle relaxing injections include the correction of:
'Gummy smile' (showing an excessive

amount of upper gum on smiling)

'Canine smile' – a 'snarling' type of smile
'Turned down' corners of the mouth

Flared nostrils

Vertical neck bands

Hyperhidrosis (excessive perspiration of under-arms, groins, hands or feet)
With a variety of wrinkle reduction injections available our professional team will be able to prescribe the best product and dose for your individual requirement.
*TREATMENT DISCLAIMER
Please be aware that individual results for any treatment or use of our products may vary. Results are not guaranteed.
*GENERAL DISCLAIMER
Please also be aware that the information, including but not limited to, text, graphics, images and other material contained on this website are for informational purposes only. The purpose of this website is to promote broad consumer understanding and knowledge of various health topics. It is not intended to be a substitute for professional medical advice, diagnosis or treatment. Always seek the advice of your physician or other qualified healthcare providers with any questions you may have regarding a medical condition or treatment and before undertaking a new health care regimen, and never disregard professional medical advice or delay in seeking it because of something you have read on this website.