More people are turning to Cosmetic Doctors for facial rejuvenation techniques,
to help their face reflect the way they feel inside.
What are Dermal Fillers?
Dermal Fillers are injected beneath the skin's surface to diminish the depth of facial lines and to enhance lip contour and definition.
We only use market leading reliable products.
The injectable gel acts as a skin "filler" to gently restore structure and volume to the skin.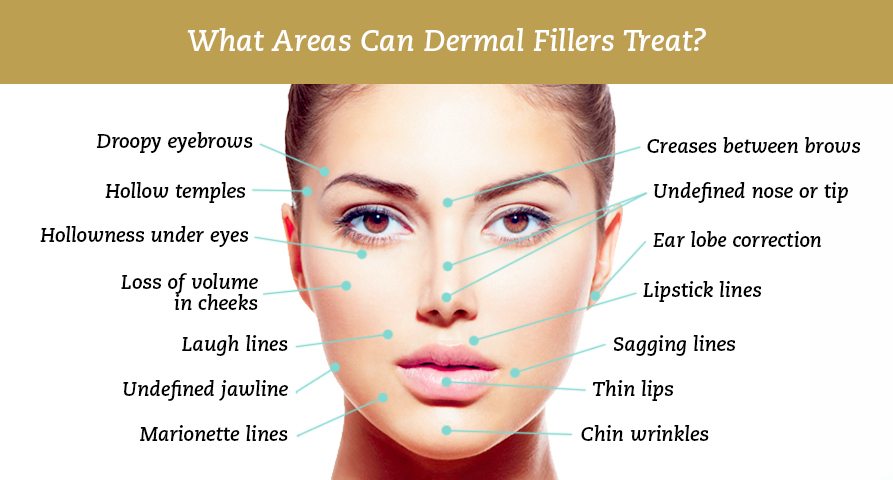 How do dermal fillers enhance my lips?
By treating the border of the upper and/or lower lip, dermal fillers enhance and define lip contour.  Lip volume can also be increased when the filler is placed in the body of the lip.
How do dermal fillers smooth out wrinkles?
When the dermal filler is placed below the skin's surface it literally "fills" a wrinkle or folds.  Dermal fillers are used to diminish the depth of wrinkles and create a smoother, more refreshed facial appearance.
What are Dermal Fillers made of?
Dermal fillers are a smooth injectable gel that is made from a natural complex sugar.  This sugar is found naturally in the tissues of living cells, including human skin. The gel assists in skin hydration by attracting and holding water and also combines with collagen and elastin to provide skin structure and elasticity.  The dermal fillers we use are not derived from animals.
What does the treatment involve?
This is a non-surgical procedure involving a few injections administered by our highly experienced medical staff. Your medical professional may decide to administer a topical anaesthetic cream or local anaesthetic to help numb the area being treated. This will make the whole procedure more comfortable.
How long do dermal fillers last?
The longevity of treatment varies from person to person depending on how quickly your body naturally metabolises (breaks down) this particular sugar complex.  Generally, your filler will last 8-12 months, but in some areas of the face, they can last around 2 years*. This makes them a very cost-effective solution.
Are there any side effects?
Because the sugar in the fillers we use is naturally present in the skin and not derived from animals, there is no need for allergy testing prior to treatment.
Some clients may experience swelling, bruising and redness after treatment, these are normal effects of treatment. It is recommended to apply ice after treatment.
*TREATMENT DISCLAIMER
Please be aware that individual results for any treatment or use of our products may vary. Results are not guaranteed.
*GENERAL DISCLAIMER
Please also be aware that the information, including but not limited to, text, graphics, images and other material contained on this website are for informational purposes only. The purpose of this website is to promote broad consumer understanding and knowledge of various health topics. It is not intended to be a substitute for professional medical advice, diagnosis or treatment. Always seek the advice of your physician or other qualified healthcare providers with any questions you may have regarding a medical condition or treatment and before undertaking a new health care regimen, and never disregard professional medical advice or delay in seeking it because of something you have read on this website.