Treatment Detail
The Aesthetic Laser Centre Offers Picosure Laser
Technology for Treating Acne Scars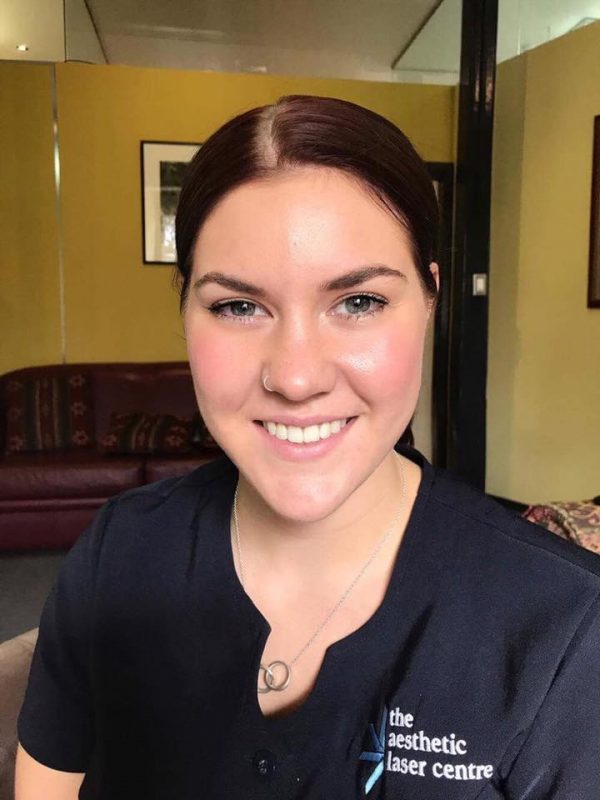 PicoSure is the world's first and only picosecond aesthetic laser for multiple aesthetic applications, including tattoo removal, wrinkle treatment, removal of pigmented lesions and acne scar treatment.
Treating scars is easier than you think. PicoSure reduces the look of scars without harming surrounding skin. In just a few fast, easy treatment sessions, scars are much less visible, leaving behind clearer, more attractive skin.
"We're improving the skin and reducing the look of scars. The results are impressive and patients are highly satisfied with the treatment experience."
What is PicoSure?
PicoSure® is the world's first and only picosecond aesthetic laser platform for multiple aesthetic applications including tattoo removal, acne scar treatment, removal of pigmented lesions and wrinkle treatment. This unparalleled breakthrough in laser technology delivers ultra-short pulse bursts of energy to the skin in trillionths of a second to gently target and eliminate pigment without harming the surrounding skin. Improve the look of your skin and achieve a more youthful appearance by removing pigment or treating wrinkles and acne scars faster than ever before with PicoSure.
Why PicoSure Laser Treatment?
It's important to consider your options. Face-lifts, fillers, and toxins are associated with significant downtime, risks, and side-effects. Patients often consider these treatments a "last resort." The first step to achieving a more youthful appearance or just tweaking some trouble-spots may be a PicoSure laser treatment. Speak with our office today to see if this treatment is right for you!
Acne Scar Treatment FAQ's:
How does laser scar treatment work?
Unlike surgery, laser acne scar treatment uses ultra-short pulses of laser light to reach deeply into the skin's sub-layers, treating the support structure. Then the body's natural healing process sweeps away older, damaged tissue and rebuilds it with fresh, new collagen and elastin—the crucial building blocks of normal-looking skin. It's a fast and simple procedure that's easy to tolerate and requires little-to-no downtime.
What types of scars can be treated?
Laser acne scar treatment is FDA-cleared for acne scars on any area of the body, including the face.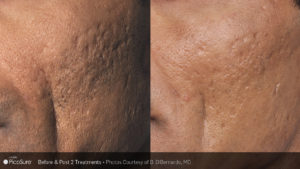 Am I a good candidate for this treatment?
Laser acne scar treatment can work on many skin types, including very light and darker skin. Contact a provider to find out if you are a good candidate for this treatment.
How long does it take?
The treatment can be performed in as little as 15 minutes or less, depending on the size of the targeted area.
What does the treatment feel like?
Most people feel minimal discomfort during laser acne scar treatment. Your physician will work with you on the best option for optimal comfort based on your individual situation.
How many treatments will I need?
Acne scars will begin to show improvement in 2 treatments but a series of 3 to 5 treatments is recommended for optimum aesthetic results.
How quickly will I recover?
Most people resume regular activities immediately following the treatment session.
Are there any side effects?
Typical side effects include temporary redness and swelling at the treatment site. Unwanted pigmentation associated with the acne scarring should slightly frost (whiten) during treatment, then darken over the following 24 hours and then shed over time.
Contact us today to learn more about PicoSure 6223 8888
*TREATMENT DISCLAIMER
Please be aware that individual results for any treatment or use of our products may vary. Results are not guaranteed.
*GENERAL DISCLAIMER
Please also be aware that the information, including but not limited to, text, graphics, images and other material contained on this website are for informational purposes only. The purpose of this website is to promote broad consumer understanding and knowledge of various health topics. It is not intended to be a substitute for professional medical advice, diagnosis or treatment. Always seek the advice of your physician or other qualified healthcare providers with any questions you may have regarding a medical condition or treatment and before undertaking a new health care regimen, and never disregard professional medical advice or delay in seeking it because of something you have read on this website.