Sclerotherapy for Spider veins and thread veins
Sclerotherapy is a treatment that involves injecting a solution into unwanted spider veins; these may appear as bluish or red in colour and are a common problem, particularly in women.
Causes of varicose or spider veins
In many cases, the cause of varicose or spider veins is not known.  However, in many cases, they run in families and women seem to be more prone than men. This may be due to pregnancy or normal hormone fluctuations such as menopause.
Other contributing factors include:
Standing or sitting for long periods
Being immobile for long periods of time. i.e. (being confined to bed)
Lack of exercise
How Sclerotherapy works
The solution, which is injected into the veins, is called a sclerosant.  It causes the vein to close by irritating the blood vessel so that it swells and sticks together.  This process causes the vein to fade over the next week or two so they can no longer be seen.
Is sclerotherapy painful?
The needle is very fine and the pinprick is barely noticeable.  The sclerosant is a bit stingy but doesn't last for long.
Following treatment
To improve the blood circulation it is essential to walk every day.  Support stockings are recommended after the treatment of varicose veins but are not necessary when injecting small spider veins.
No heavy exercise for 48 hours. i.e. gym work or sport.
No running for 48 hours
No swimming for 48 hours
No soaking in a bath for 48 hours.
Possible side effects
Bruising and/or swelling– usually at the injection site, this will disappear within a couple of weeks
Brown lines or spots – these may appear on the skin at the injection site and occurs when blood escapes from the treated vessel into the skin tissue.  This discolouration is caused by the iron in the blood and will disappear in time.  In a small number of people (less than 5%), the brown lines may last up to a year or more.  It is not recommended to take iron supplements while having sclerotherapy treatment.
Things to remember
Sclerotherapy is the injection of a substance into the spider veins
Most people receive a significant improvement in the appearance of spider veins.
You will need 1 or 2 treatments approximately 1 month apart and then an annual maintenance treatment.
Side effects can include bruising, swelling or brown lines or spots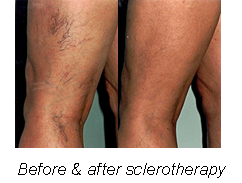 *TREATMENT DISCLAIMER
Please be aware that individual results for any treatment or use of our products may vary. Results are not guaranteed.
*GENERAL DISCLAIMER
Please also be aware that the information, including but not limited to, text, graphics, images and other material contained on this website are for informational purposes only. The purpose of this website is to promote broad consumer understanding and knowledge of various health topics. It is not intended to be a substitute for professional medical advice, diagnosis or treatment. Always seek the advice of your physician or other qualified healthcare providers with any questions you may have regarding a medical condition or treatment and before undertaking a new health care regimen, and never disregard professional medical advice or delay in seeking it because of something you have read on this website.